We Serve all of the Continental USA.
Use our service to receive quotes in your area for countertop fabricators and installers. The service is free. Just complete the short application with no obligation.
To receive accurate quotes for granite fabricators and installers we recommended that you read the following then click here to receive quotes from granite contractors in your area.
Granite's Advantages
Durability granite is one of the hardest natural stones on the planet Earth.
Easily Maintained
No harsh chemicals required granite's beauty can be maintained with a simple solution of one part white vinegar and two parts water.
Improves Cleanliness
Fluting can be built in and provide draining into the sink no more standing water for bacteria to grow.
Superior Food Preparation Surface
Cool surface for pastry cooking.
No cutting board required (But recommended).
Increases The Re-Sale Value Of Your Home
Instantly updates a kitchen without major costly renovation natural color variations in the stone make it easy to accent any decor.
Granite Is More Affordable Now, Than Ever Before.
Imagine A New Granite Countertop In Your Kitchen. Get Up To Four Quotes. It is Free and Easy!
Choosing The Right Slab For Your Home:
Details:
Granite is solid and very heavy, one square foot of granite can weigh between 12 to 25 lbs depending on the thickness of the granite and the color (The darker the granite the heavier it is usually). This alone makes it necessary to have professionals install your granite. Granite can be very fragile if not handled properly and break.
Sizes:
Granite comes in two thicknesses, 3/4 inch, 2cm and 3cm, 1 ¼ inch. Both are great to have and what you choose will depend on what type of look you want in your home. You should look at both thickness before deciding on which granite to purchase for your home.
GETTING STARTED:
Always make sure you understand the policies and charges before starting service with any granite company.
Make sure you understand and follow all the local building rules and codes.
All new building projects are unique and all situations cannot possibly be covered in these guidelines.
A 1" to 1 ½" over hang is the standard over hang for kitchens, bathrooms and bars. This will give it a nice look while letting you open your cabinets underneath. To get a feel for the difference between 1" and 1 ½" you should place a piece of granite or something similar on top of the cabinet. This will allow you to open and close your cabinet drawers to get a feel for when your granite countertop is in place.
Before You Have A Contractor Come Out And Take Measurements
Take your own measurements. That way you will have an estimate on how many square feet and lineal feet your current countertop has.
Find Granite Countertop Contractors In Your Area Today. Get Up To Four Quotes. It is Free and Easy! Countertop Installation Prices
Preparing For Your Contractors Initial Visit:
Most granite companies will cut out sink/cook top holes in shop before they ship them out to the house. This means you need to have everything ready for measurements:
Plumbing fixtures, sink faucets, soap dispenser etc...
Cook top (if not installed yet look in owners manual or on-line to get proper dimensions for your contractor).
Refrigerator (if not installed yet look in owners manual or on-line to get proper dimensions for your contractor).
Measurements are imperative to getting the granite countertops as close to the refrigerator and stove without touching this will make for a beautiful finished look.
Breaking Down Basic Granite Countertop Installation Quotes:
Materials:
The granite slab is priced by the square foot. The price will vary depending on color and pattern of the stone.
Edging pieces
-prices will vary greatly depending on size and styles.
Installation:
Installation charges are in square feet. Most granite companies include a basic flat or (eased edge) in their square foot pricing.
Most granite fabricators include 3 faucet holes in a basic installation.
Additional Miscellaneous Charges:
Backsplashes: (Standard granite backsplash height is usually 4" tall) taller and more detailed granite backsplashes.
Special Edging:
Half Bullnose, Demi Bullnose, Full Bullnose, Ogee, bevel, waterfall and the
chiseled look edges. To See Granite Edges Click here

Additional faucet holes, cook tops, sink cutouts and undermount sinks.
Be sure to clarify that you have everything you need included in your quote.
Installation Tips And Tricks From The Experts
Preparing For Installation:
Remove your pets from work area and keep them in an enclosed area so they can't be injured or run out of an open door.
Remove all items in base cabinets failing to do this will result in having to wash your belongings upon completion of the job.
Cover your floors. As a general rule the installers will keep their work boots on for safety.
Installation and finishing of granite countertops creates dust, always cover or remove any items that will be affected by dust.
Before Your Contractor Leaves:
Make sure all the holes are drilled for the faucets for the under mount sink.
Cook top, range, sink, refrigerator fits properly.
The dishwasher is re-attached.
Save the leftover pieces from the cut outs ***You may need these to match colors and finish the overall design of your home***
Imagine A New Granite Countertop In Your Kitchen. Get Up To Four Quotes. Row Window Replacement. It is Free and Easy!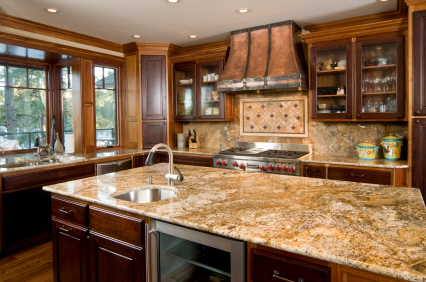 Find
Local Granite Countertop Contractors
In Your Area Today. Get Up To Four Quotes. It is Free and Easy!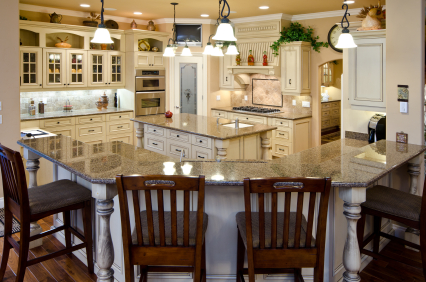 Email us at Service@MyInstalledCountertops.com
My Installed Countertops About Us Contact Us Links 2,3,4,5
Phone (866) 892-3910